World novelty! The refrigerant of the future WT69
We present you the result of our research, the latest innovation from weisstechnik: WT69, the refrigerant of the future (the substitute for R23).
The EU F-Gas Regulation makes innovation for environmental simulation more in demand than ever.
We recognized the signs of the times at an early stage and made our cooperation with key partners in search for an R23 replacement. We are proud to present you the latest innovation from weisstechnik: WT69, the refrigerant of the future.
Without compromise to –70 °C.
With WT69, the test results remain reproducible.
Our first premise and the biggest challenge in the development of the new refrigerant was the complete maintenance of test results comparability. The reproducibility of the test results is our big promise. 
No wonder, then, that we do not compromise on reaching -70 ° C with the new refrigerant. With WT69, our test cabinets behave almost identically to the predecessor models with R23. The cooling rate stays long linear, with high heat compensation. This way you can continue to use all test profiles without restrictions, and the results remain comparable.
GWP reduction of more than 90%.
With a GWP of just 1,357, WT69 complies with the EU F-Gas Regulation.
WT69 has an extremely low GWP of only 1.357. Compared to R23, we achieve a CO2 equivalent reduction of over 90% (14,800 to 1,357). By using WT69, you can continue to operate your systems safely beyond the year 2030 and are spared the future price increases and availability problems related to R23.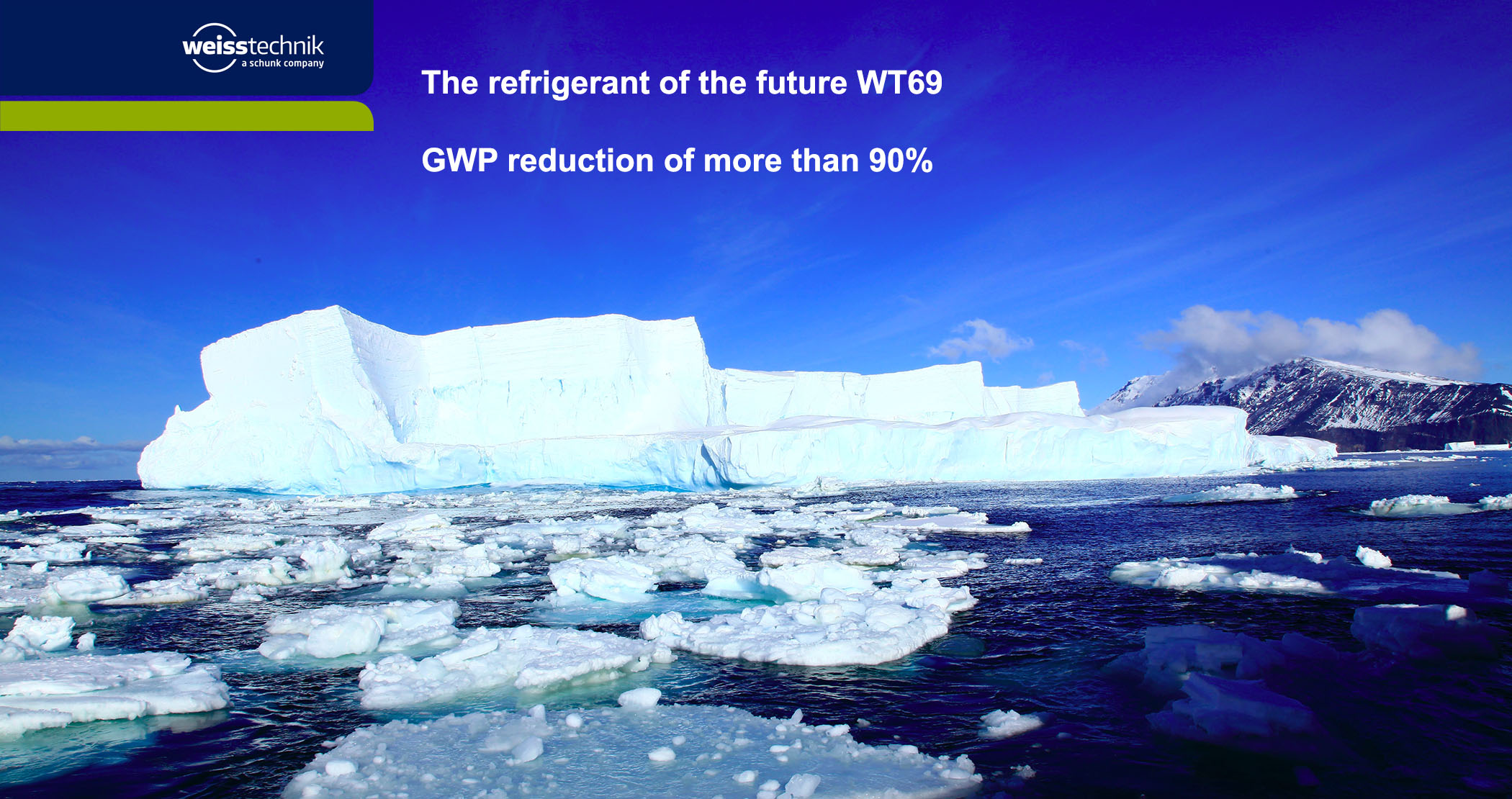 Absolute safely.
WT69 fulfills all requirements for refrigerants in environmental simulation systems.
In the environmental simulation chambers, products are tested under extreme conditions. The extreme temperatures prevailing in the test room also present special challenges to the refrigerants in use. For example, they must not be flammable or toxic.
Non-flammable: A1/A1 proven by ASHRAE
Non-toxic: material safety data sheet officially released
No ODP: formula without ozone-depleting substances
Non-corrosive: 100,000 hours tests without corrosion
Chemically stable: ASHRAE and BAM tests passed
In addition, the pressure in the system remains manageable, the pressure remains as before.
Please contact us by email or give us a call, and a qualified staff member will advise you.