Six-Degree of Freedom Multi-Axis Demonstration Event Announced by IMV Corporation
THP Systems Limited and IMV Corporation are pleased to invite you to an free open day event that will show case the Simultaneous Multi Axis Vibration Technology from IMV.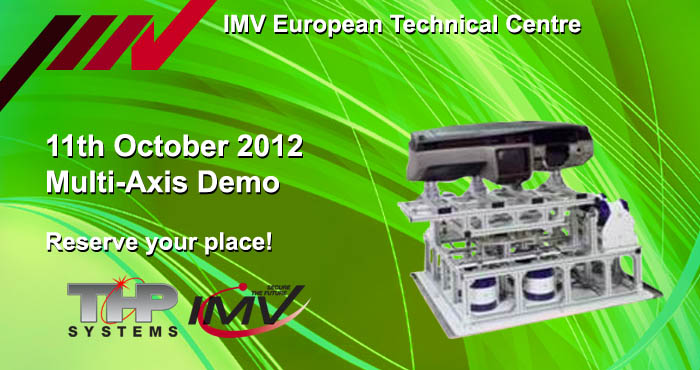 This full integrated Simultaneous Multi axis test system has been designed and built for a well-known Automotive parts supplier and will be used to test both full Instrument Panels and seat systems as well as interior component. 
A full demonstration of the capabilitys of this system will be held at IMVs Technical Center on the 11th October 2012.
This must see event is open to all interested parties who have an interest in Multi Axis Vibration or Squeak and Rattle prevention and elimination from a Production or Reasearch and Development perspective.
The Event will be an open house and the facility will be open for visitors between 09.30 and 17.00 pm. We look forward to meeting you and discussing your requirements.